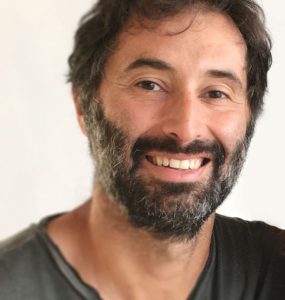 Born in Alba in 1975, he graduated in sculpture from the Academy of Fine Arts in Turin. In 1996 he exhibited his first works at "Compresenze" Seven Young Artists in Turin, at the Galleria Piemonte Artistico Culturale. He participated in the 2000 Summer Exhibition at the Royal Academy of Art in London. It was in London that he perfected his artistic language in the studio of the Japanese sculptor Noriaki Maeda while he was a technical assistant at Agnew's Gallery, the Robert Sandelson Gallery and the Stephen Lacey
Gallery.
In 2002 he was invited to the Third International Sculpture Prize in Turin and from 2003 to 2013 he participated in symposia and exhibitions in Italy and abroad. In 2015 he exhibited Lo scalatore di nuvole (The Climber of Clouds) – a personal exhibition of sculpture – at the National Museum of the Mountain of Turin,. He won the National Ora Prize in 2016.
In 2018 he exhibited his personal Sognando Sogni (Dreaming Dreams) curated by Roberto Sottile at the Add-Art Gallery in Spoleto. In 2020 he exhibited in the group exhibition For a Better World at the Galerie Géraldine Banier in Paris, a gallery that still represents him today.
In 2022 with the site-specific work Porta di Luce (Door of Light), an aluminium casting of over forty meters, he won the competition of ideas for the enhancement of the boundary wall of the student campus of the Licei in the municipality of Alba. He lives and works in Alba.